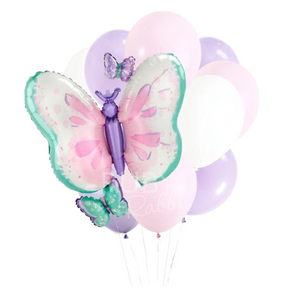 NK Balloons
Butterfly Balloon Bouquet
Oh so sweet!
We ♥ this adorable butterfly balloon bouquet. Set of 10 standard sized 28cm balloons and 1 giant butterfly balloon.
Pack includes 10 latex 28cm balloons in pastel pink, lilac and white plus 1 giant butterfly foil balloon.
Sold uninflated.
Suitable for inflation with air or helium (we recommend helium for balloons to float). Helium float time approx 8-12 hours for latex balloons and 3-5 days for foil balloons. Float time is variable & can be altered by extreme temperatures.
Please note the colour of the balloons may vary slightly from the image displayed. Balloon colours change upon inflation.
#rubyrabbitparty
---
Share this Product
---
People who purchased this product also purchased